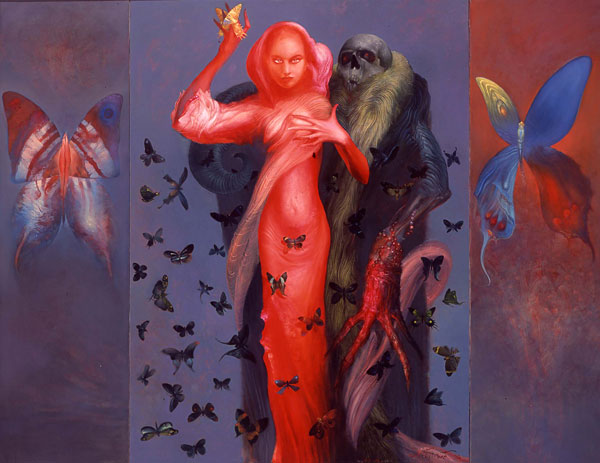 UNSEEN DANGER
My brothers are flattered that
Society remembers the last time
We picked cotton with our teeth
How easy it was to remove their tartar
words with a flossy smile
strict orders were given to them to dismember
our flesh prejudicedly
rightfully based on skin color
bath salt drip drops reminders on my locs
I'm the loctician who has definition of verses
An escapist who converse with the Devil
I question him under a cooch tent
eyeballing the menagerie he offers
to my people with bruised hands
their fresh taste of cum he swallows
secretively he smiles
using my breasts as doormat
pulling my palm tree locs while we tap dance
to the beat of flat tambours
his frozen semen he serves in honeyed tea
guitar strings he wraps around my throat
advising me to drink and be merry
the bittersweet taste is refreshing
yet I don't forget he is the danger lurking behind my tears
my brothers and sisters blind copy their thoughts
to him
and he feeds them liberal dreams
with sleep disorders
openly he admits his global warming
fear heats out of my pores
nightmares are my only way out
©11/2006 by C. Delaleu


**Sometimes dreams offer us a preview of the future, i'm sure many have experienced deja vu's and most of the time it happens for a reason. Share your thoughts on dreams. Have you ever had one that comes to life?**

Well, I had one which today I still can't comprehend. I dreamed I was watching the news about a plane crashing in the water...the news mentioned JFK Jr. was inside the plane. So, when it happened the following week, I was seated in the living room and this time it wasn't a dream. So I knew the week before he died. I was horrified by the news, quickly I called my friends and family, this was a serious case of deja vu. My mother felt it was just a coincidence. I get them often and try to ignore those thoughts, try to shut them out. Often I hear writers have the strangest dreams because we use a lot of our creativity and imagination, we are always running with our dreams.