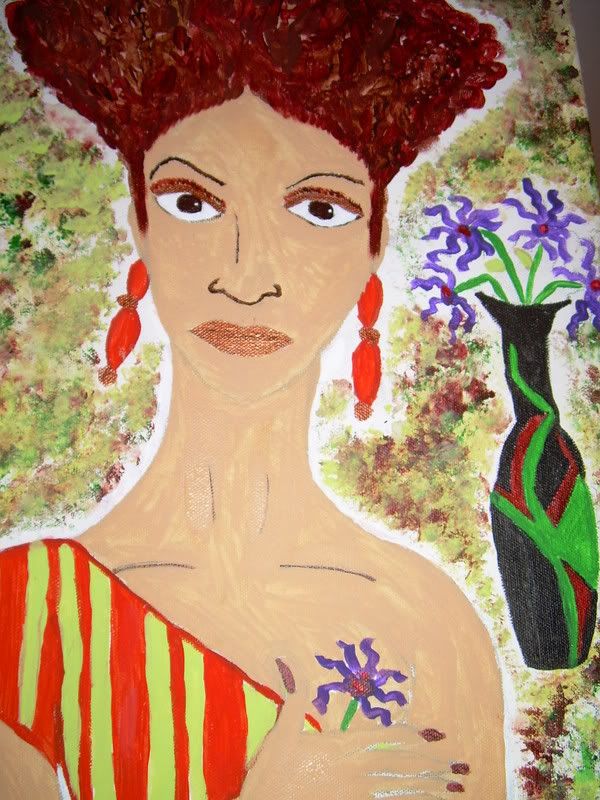 Happy Friday everyone. This is my latest art work, acrylic on canvas. It was fun to do since I use a small sponge for the background. I need more practice, I'm not looking to be perfect only better at it. For those artists out there, what killer tips do you have for emerging artists when it comes to acrylic or oil. Well, what I've been doing is draw my work first on a canvas then paint, do you think that's a good idea? Do I need to sketch first or just paint? Your responses will be much appreciated. Have a great weekend.


NIGHT LIGHT

O yes bring back French music
Bring back Sunday dinners
Equipped with a maid at my tail
I want to be taken back to school
Sell stack of fairytales to hungry kids
They'll eat using thirsty fingers
Love is my favorite subject
But teachers snicker
They don't like my Happy Ending
I should have stayed in class
To start another chapter of playful words
Mom you should have left me there
I was comfortable with my head
On a stranger's bosom
She used to look at the stars
Predict danger while a big white bird flew by
I miss the recipe of dreams
the collage of innocence
the dragonflies of hope
In America it's not safe to catch
stars with a swollen tongue
© 1/2007 Cathy Delaleu

This poem is based on my childhood years in Haiti, I grew up there for 6 years without my mother. It was me, my sister and my brother. I remember the French musics my Tante and uncle used to play while we ate our Sunday dinner. We had a maid for everything: one maid cooked, one cleaned and took care of the garden and cars, one washed the clothes and took us to school. I recall one maid that used to tell us some wild stories at night. She always waited until the grown-ups were asleep to tell us small kids what to fear at night and one of her tales was about a human who would turn himself into a big white bird and he would fly over many homes looking for scared children to eat. With that story, she made us pray every night. You can almost hear the bird or "chouete" flying over the roof, he couldn't easily smell our fears cause' we hid under our beds with our prayers.